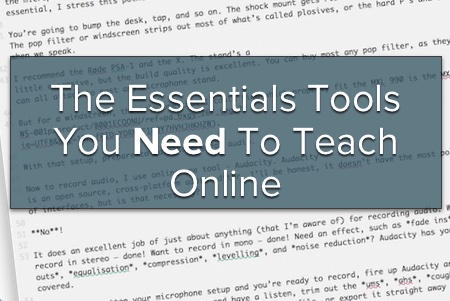 The Essentials Tools You Need To Teach Online
A friend asked me recently what the essential tools are that I use to create podcasts and online courses. In this post, I detail them, along with why they are the ones I use.
I appreciate that the process of creating online courses and podcasts might seem like a pretty complicated affair. Given that, I'd understand if you felt that you need a large array of equipment and software to make it all happen.
But, the fact is that you don't — at least not in my opinion.
Over the years I've had people recommend all sorts of equipment and software to me. There's top of the line microphones such as the Heil PR40 and Adobe Audition for high-quality sound recording and editing, and Final Cut Pro for video editing.
Then I've had suggestions of audio levellers, image editors, and so much more. But I've never needed it. All the while, I've received lots of excellent feedback about the quality of the content which I produce.
So, today, I'm going to be perfectly honest with you, and tell you exactly what I used, and why. There's not a lot — honestly. By the time you're finished reading, I think you'll be pleasantly surprised at just how little you need.
Recording & Editing Audio
I went over it in greater detail in an earlier post, but to record audio, I use a combination of the MXL 990 microphone and the Focusrite Scarlett Solo. The combination of these two pieces of hardware helps me create a high-quality audio sound.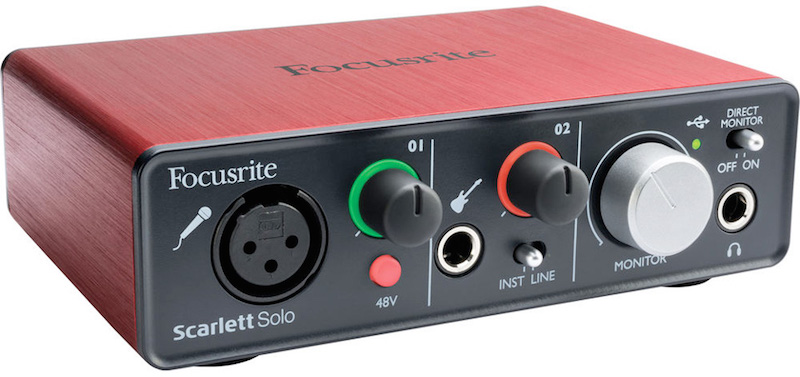 As you can see from the screenshot above, the Focusrite only has a gain and a volume control. You don't have the ability to mix in a range of different audio sources or do a host of fancy effects. You can only set the sensitivity of the microphone, and turn up the volume in your headphones.
This might sound limiting. It's not; it's liberating. Because I'm no audio engineer, there's nothing to be confused by, or to waste endless hours on, experimenting.
This setup came highly recommended to me. And I highly recommend it to you. You can likely find it on Amazon, Thomann, or another quality retailer. While you're there, you're going to need an XLR cable, as the microphone's not a USB microphone.
You'll also need a stand, a shock mount, and a pop filter or windscreen. The reason being is that the microphone is not self-standing like many USB microphones are. Secondly, a shock mount's essential, I stress this point.
You're going to bump the desk, tap, and so on. The shock mount gets rid of around 98% of these. The pop filter or windscreen strips out most of what's called plosives, or the hard P's and S' when we speak.
I recommend the Røde PSA-1 and the X. The stand's a little expensive, but the build quality is excellent. You can buy most any pop filter, as they can all attach to most any microphone stand.
But for a windscreen, the only one that I could find which properly fit the MXL 990 is the MXL WS-001.
With that setup, prepare to make some great audio.
Now to record audio, I use online one tool — Audacity. Audacity is an open source, cross-platform audio editor. I'll be honest, it doesn't have the most polished of interfaces, but is that necessary?
No!
It does an excellent job of just about anything (that I'm aware of) for recording audio. Want to record in stereo — done! Want to record in mono — done! Need an effect, such as fade ins, fade outs, equalisation, compression, levelling, and noise reduction? Audacity has you covered.
After you've gotten your microphone setup and you're ready to record, fire up Audacity and click record. When you're done, click stop and have a listen, trim out the ums, ahs, coughs, and any other unnecessary things which we all do. Save the file, or export it straight away to MP3 or WAV.
Audacity — genuinely — makes it that simple.
Recording & Editing Video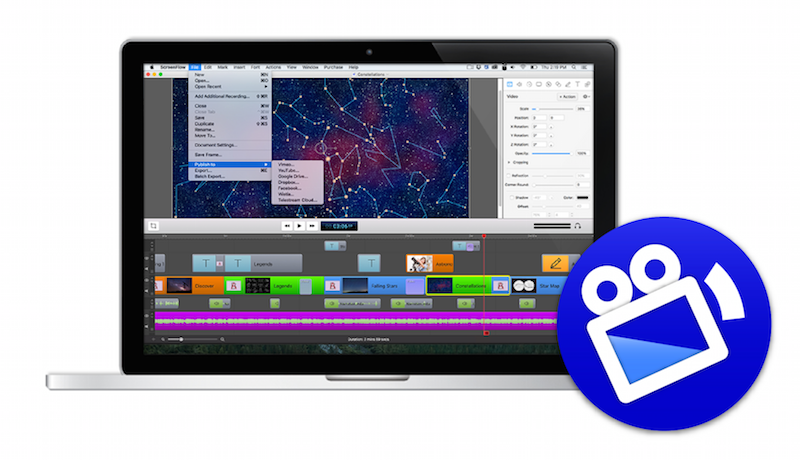 For recording and editing video, I use one app — Screenflow (version 6). I've tried a number of tools, such as Camtasia. But I found that Screenflow has the right mix of functionality and simplicity.
You're able to record your entire screen, or just a section of it very easily. When it comes time to edit, they're forever improving the way in which you can edit the video and audio timeline.
While I feel they still have room for improvement, especially for keyboard users like myself, they've already improved by leaps and bounds.
In addition to getting the essentials right, you can import all kinds of media assets, such as audio and video. You can do callouts, add video and audio effects, annotations, and text overlays.
I've not experimented with these to any significant level of depth. But from what I have, they're excellent.
What's more, at €109,31 the price is hard to beat. If you're on Windows, give Camtasia a shot. I've heard great things about it. If you're on Linux, try Record My Desktop or Simple Screen Recorder.
Image Editing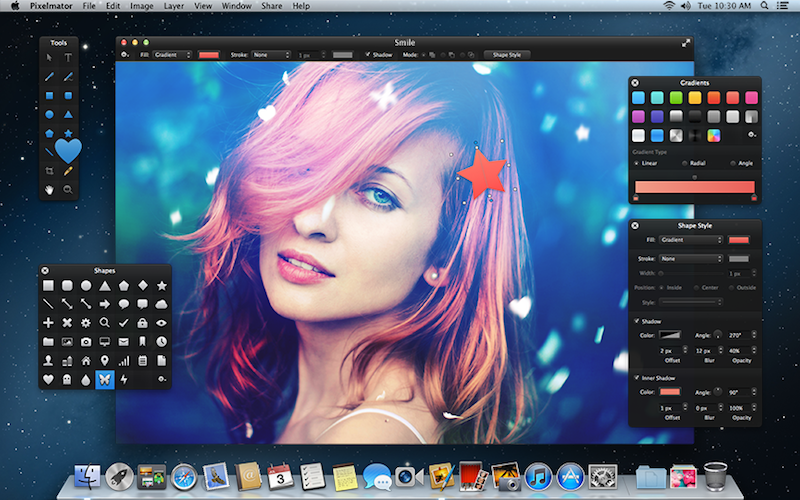 For image editing, I've used several tools. But the ones that I keep coming back to are Pixelmator, Skitch, ImageOptim, and Mac Preview. The combination of these tools makes image editing a breeze.
I'm no image professional, in that I can create fantastic /images that would stun an audience. But then I don't have to. The /images that I create have to teach or convey a point. They need to communicate information and help the reader learn more efficiently.
Given that, I mainly need only the ability to crop, resize, and to annotate. In that way, these tools more than suffice. I use Pixelmator for the heavy load image editing, where I have to add a bit of class and style; whether that's using some drop shadows, text overlays, and so on.
If I need only add annotations or highlights, I'll likely use Skitch, as I feel the quality of its annotations are better than Mac Preview's. If I'm just in need of a resize or crop, then there's no reason to go past Mac Preview.
As all the content that I produce is for the web, and bandwidth (while some would debate this) is still at a premium, I always use ImageOptim to optimise the /images. All you need to do is either open one or several /images with it or open the app and drop them on it.
From there ImageOptim takes care of reducing the size of the /images as much as possible, without reducing the visual quality. It's a click and forget setup.
Writing Blog Posts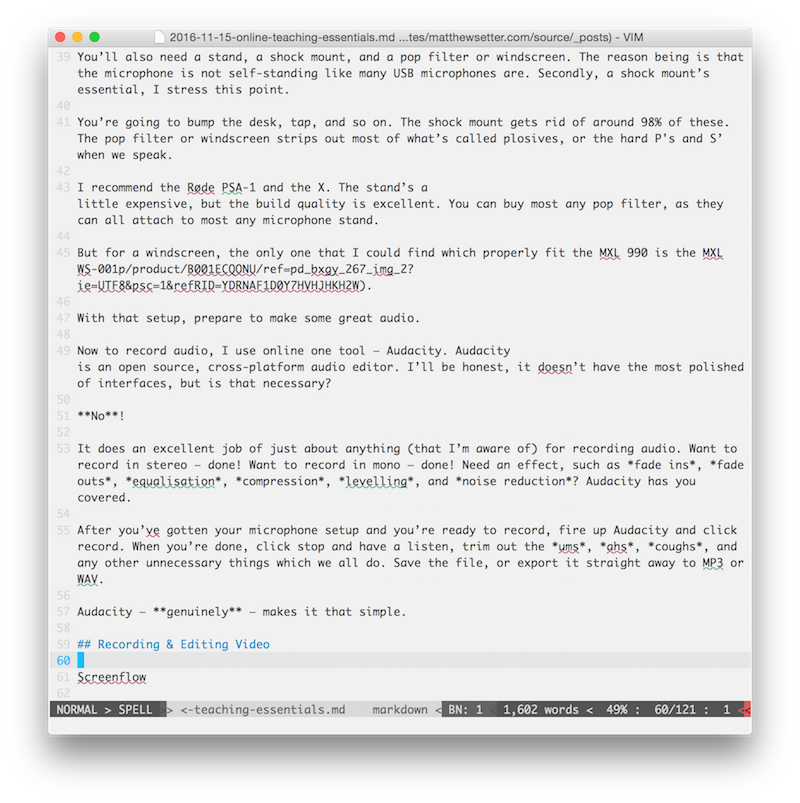 This is where I have the most experience and the area where I've spent the most amount of time experimenting and testing. The result of all that experience is that I use a combination of, again, just a few apps.
The powerhouse is MacVim. At this point, I hear nerds rejoicing and non-nerds asking "what the hell is that?"
MacVim is Vim for the Mac, with a nice-ish UI. And Vim is the 30+ year veteran text editor which can do almost anything. Out of the proverbial box, it feels very limited.
But I've been, on and off, maintaining an open source repository which helps to make it much more efficient for writing with (and doing some software development).
Thanks to some themes and other configurations, it does a pretty good job of providing all I need to write, yet not putting anything forward which might distract.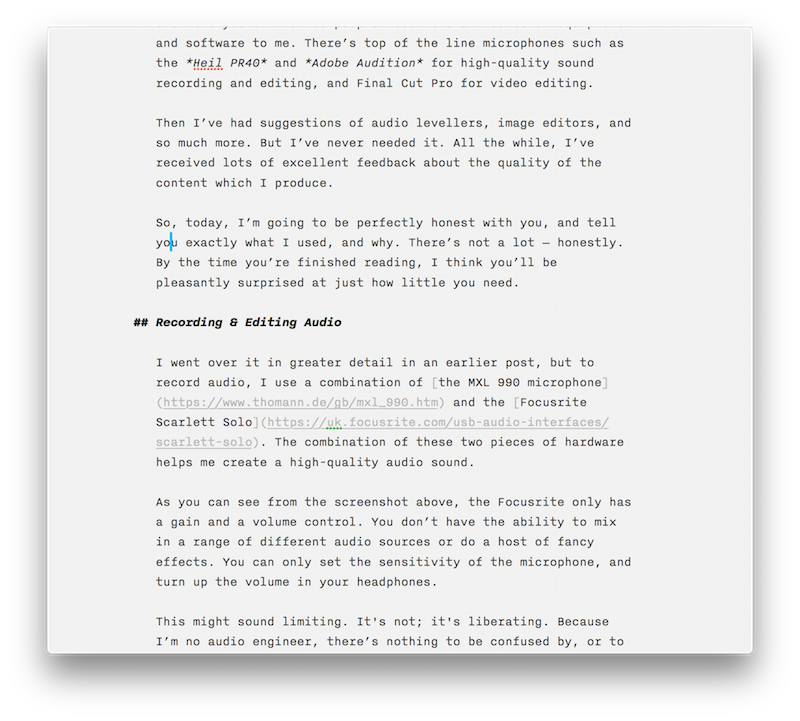 The next tool, one which I have high praise for is Writer. Again, this is only available for Mac (but then I'm a Mac user). This is a no-nonsense text editor, designed specifically for writing with next to no distractions, but optimised for writing with Markdown.
It's excellent! I mostly defer to MacVim, as the power user in me wants what it offers; whether that's moving anywhere in the document, multiple splits, rapid content updates, or more.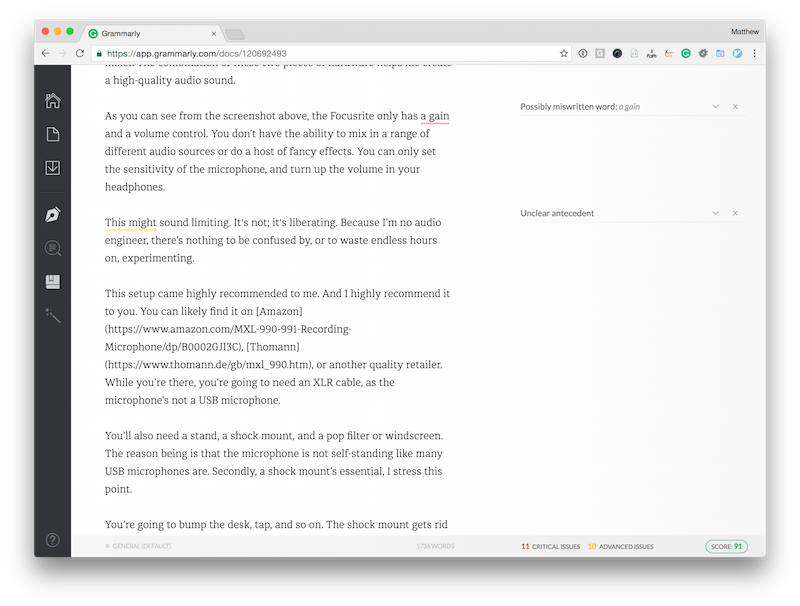 Now there's one final tool that I have to mention - Grammarly. Without Grammarly, the quality of my writing would not be what it is. If you've not used it, definitely give it a try!
Grammarly's an online service which will check your document's grammar, contextual spelling, punctuation, sentence structure, and style. It can also review your document for potential plagiarism and suggest vocabulary enhancements.
I'm not aware of anyone who can write perfectly the first time (even the second or third time). Grammarly makes the process of reviewing and editing a much less involved task. Give it a try!
In Conclusion (tl;dr)
Those are the tools I use on a regular basis to record podcasts, create screencasts or online courses, or to create blog posts. There's not that many of them, and they won't break your budget if it's not that large.
Sure, for some people it might hurt a bit. But then, if you appreciate what you can create with all, or some, of these tools, you'll quickly make that money back in no time flat. I'm confident that if you're serious — you will!
Have I missed anything? Want to know more about something I've covered? Drop a comment and I'll do my best to either answer you, or to update the relevant section.
---

Software Engineer, Ethical Hacker, & Online Privacy Advocate.
Matthew Setter is a software engineer, ethical hacker, privacy advocate, & technical writer, who loves travelling. He is based in Nuremberg, Germany. When he's not doing all things tech, he's spending time with his family, and friends.
---